August 6th, 2021
BIG NEWS
While our official move-in date is still September 1st, we have invited some of our residents, that have moved out of their homes, to move in with us a little sooner. We are happy to report that Joan Jamieson will be one of our first residents to participate in our soft opening.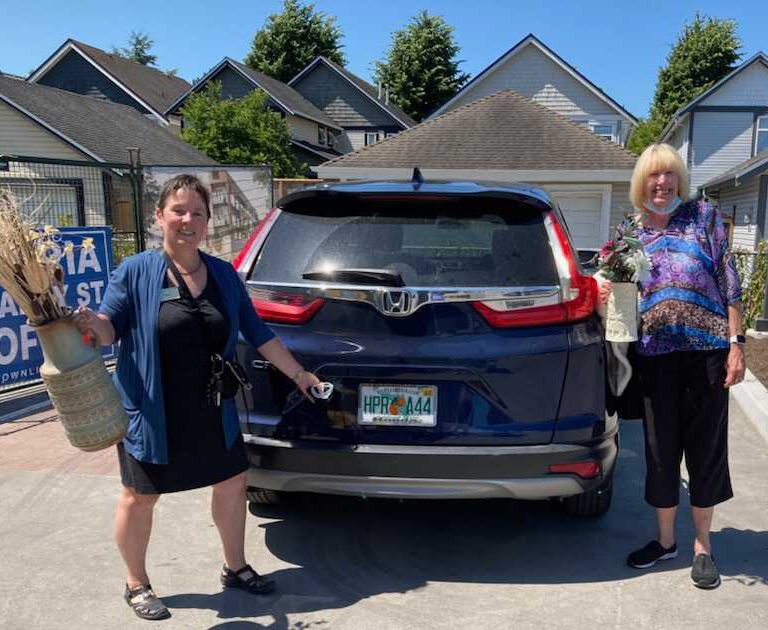 Joan left her home in Florida in May and drove up to Canada to wait for our community to open (picture left). Joan has been staying in a local hotel for the last month and is very happy to be welcomed home.
Staff at Wisteria Place have not only been doing tours and answering questions for our new residents, but we have also been training. There is a lot of information to learn when opening a new community. In the past week we have learned about our audio-visual equipment, security and safety systems, HVAC, and fire protection.
Our favourite training was a recent visit from two Optima Living staff members from our sister property, Aster Gardens, located in Sherwood Park, Alberta. Karen Fitzgerald (General Manager) and Deb August (Concierge) were valuable resources, answering all of our questions, and providing support for our opening.
They thoroughly enjoyed their time here in Steveston and were thrilled with their fish and chips lunch from Dave's restaurant.

Call us any time at 604.338.5280.
---
Wisteria Place Events
Wisteria Place Live In-Person or Virtual Tours 

Monday to Friday from 9:00 AM to 5:00 PM 

Please reach out by email or phone to book

Coffee Chat: Future Residents Move-In Q and A

Team members Sheila, Ann, Marilbis, Aviv and Daniel will be on the call to answer any questions

Thursday, August 12 at 10:00 AM PDT

Click here to join

Optima Living Events

Webinar 

Building Support Networks In Challenging Times

Thursday, August 12th at 11:00 AM PDT / 12:00 PM MDT

Subscribe to our YouTube channel to see it
---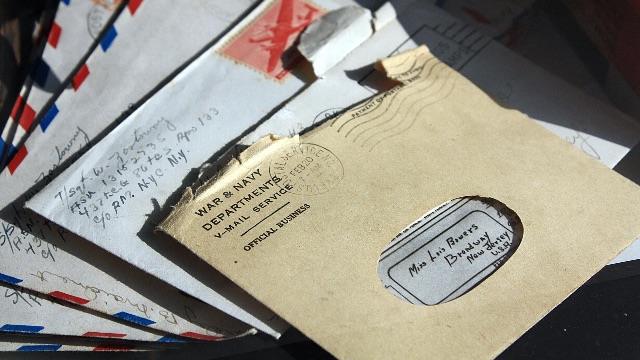 Wisteria can now receive mail! Feel free to have your mail forwarded to the below address and we will place it in your mailbox.

Mailing Address: 4388 Garry St, Richmond, BC V7E 2V2
---
Upcoming Optima Living Webinar: Building Support Networks In Challenging Times
How do you stay connected with your parents and grandparents? How do we ensure that seniors and those who care for them feel supported and part of a community that cares for them?

Our webinar this month—featuring Optima Living Principle Ali Shivji, our University of Alberta knowledge partner Dr. Adrian Wagg, and from the University of Alberta's Department of Family Medicine, Dr. Jasneet Parmar—is about building support networks in challenging times. 

Join us Thursday, August 12th, at 11:00 AM PDT / 12:00 PM MDT.

Subscribe to our YouTube channel to see it!
---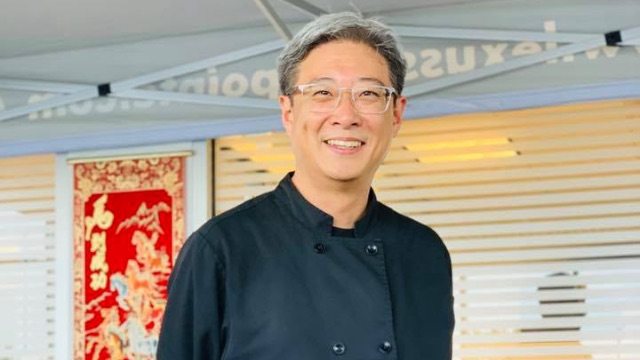 Meet Mike!

A big Wisteria Place welcome goes out to Chef Mike. He has been trained on all the new equipment and he will be breaking in the new kitchen. In preparation for new residents, Chef Mike will be trying out his menu creations with the staff. 

A short message from Chef Mike:

"Over the course of my employment history, I have worked in every area of the kitchen, up to and including my current position as Head Chef before joining Wisteria Place. I have a vast working knowledge of kitchens of every size, and as a quick learner, I fit comfortably into new working environments.

I enjoy combining my classical training with my international experience, and thrive in situations which allow me creative license. The specialty menus that I am renowned for focus on the use of fresh, seasonal and local ingredients whenever possible. My continued objective is to use my skill sets and experience to ensure that daily, I enhance your lives through food.

I am ready to undertake a new challenge at Wisteria Place to provide your daily nutrition. I am honoured to welcome you home soon into your home and for you to experience my creativity through your indulgence in food."
---
The Wisteria Place Bus Has Arrived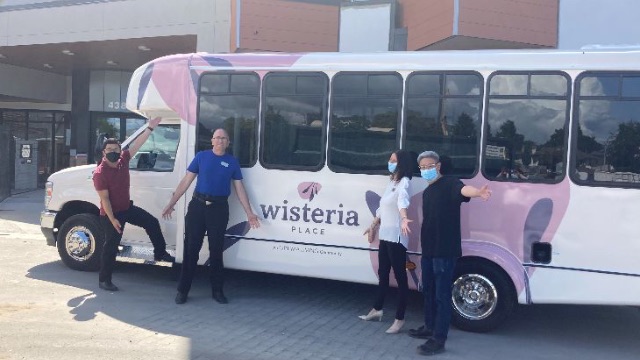 Our bus arrived on July 20th and it was love at first sight!

We have welcomed a bus driver to our team. He comes with over 20 years of experience in driving for other seniors' communities. We look forward to gaining knowledge from him to create exciting excursions based on your favourites. Stay tuned for more information on this new member of our team.
---
All of the suites are nearly completed and we are going through last-minute touch-ups. The crane came down on June 23rd, signifying the completion of the landscape of the central courtyard.

Between June 28th and 30th, all the furniture was delivered for the common areas and we are currently scheduling full tours and lease signings for our depositors. We can't wait to welcome you home.

Book a tour for you or your loved one! 
---
The garden by the temple in front of our building is quickly coming along. It will be a lovely peaceful spot for our residents to enjoy. One side is to be a traditional Japanese garden, while the other side will be grassed in for games, activities, and picnics.
---
It is a busy place here at Wisteria Place today! The beautiful feature wall in the lobby area is being installed.

This eye-catching artwork is made out of recycled plastic. Several of you dropped off plastic bags and we partnered with local grocery stores who also donated more bags for the project.

We look forward to showing you the finished product when you come in for your lease signing in the next couple of weeks.
---
Favourites Form
you have not already submitted your Favourites Form, please get those in as soon as possible. This information is so valuable for the staff to move forward with recreation and meal planning.

We want to get to know you and help make Wisteria Place feel like home.
---
Richmond City Councillor Visits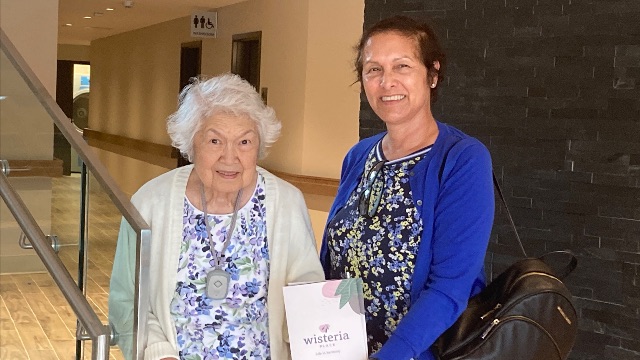 It was an honour to have Richmond City Councillor, Linda McPhail, visit our community with her mother, Ilena. 

Book a tour today! 
---
If you need help or have questions about joining our Coffee Chat Zoom experience, you can get in touch with Ann at 604-833-4141 or [email protected]. The links to our Coffee Chats and Webinars are on our website under Events.
---
Feel free to contact us should you have questions, want suite leasing information, or would like help to join our events. 

Sincerely,

Ann Lacey
Concierge
[email protected]

Sheila Lively
General Manager
[email protected]